Leverage Series 30-60-90 and Success Through Others – August 10th and 17th Only $25 – $50
August 10 @ 11:00 am

-

2:30 pm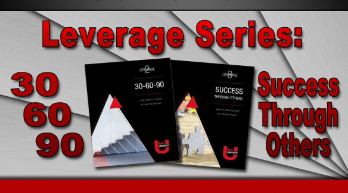 KWU's 30-60-90 – Online August 10th! Only $25
KWU's 30-60-90 & Success Through Others (August 10th & 17th) Only $50!
Instructed by Brad Knowles
30-60-90 – 8/10/20 | 11:00am – 2:30pm MT

Success Through Others – 8/17/20 | 11:00am – 2:30pm MT
*a link to the Zoom Meeting will be on the e-ticket you receive once your registration is complete. Option to purchase a combo ticket for both 30-60-90 & Success Through Others available.
You've selected amazing talent for your team. Now your work truly begins! Learn how to systematically lead your new talented team member to thrive in their top 20% using new plug-and-play tools and a simple four-step process.  Once your team member has nailed their 20% over the course of several years, they have earned the chance for a new opportunity. Learn how to create a BIG VISION for your organization so that your proven talent can cultivate their vision within your organization.
30-60-90 OBJECTIVES:
Create a purposeful 30-60-90 day plan that ensures your new hire masters their 20%.

Leverage the 30-60-90 day template and customize to your organization.

Set clear expectations, allowing your new hire to thrive in your organization.
Success Through Others OBJECTIVES:
Discover how to systematically and purposefully evaluate your hires to maximize their performance.

Learn how to empower your people to build their empire inside of yours.

Leverage key tools such as the GPS and 4-1-1 in order to help set their vision.
CLICK HERE to view a short video for the instructor, Brad Knowles.

ABOUT THE INSTRUCTOR:
Brad Knowles has over 15 years of experience with Keller Williams Realty as an agent, ALC Member, Team Leader, Leadership Coach, and Keller Williams University Instructor. Having lead real estate offices in multiple states, as well as coaching top leaders across North America, Brad brings a unique perspective and passion to the classes he teaches.